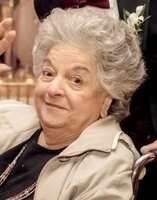 Catherine M. "Kay" Moran
Catherine M. (née Malvaso) Moran, 97, passed away peacefully on January 20, 2022, at St. Barnabas Medical Center, surrounded by family. Visitation will be Wednesday, January 26th, from 3:00 -7:00pm at Codey Funeral Home, 54 Roseland Ave, Caldwell, NJ. A Mass of Christian Burial will be celebrated in St. Philomena R. C. Church of Livingston on Thursday, January 27th at 10:00am. Interment will follow at Holy Cross Cemetery, North Arlington.
Catherine ("Kay") was born to Francesco and Felicia (née Neri) Malvaso, growing up in Newark, NJ. When her mother became gravely ill, she and her 2 sisters were raised by the nuns at St. Lucy's Church in Newark until her mother recovered. Catherine was graduated from West Side High School where she excelled in foreign languages, especially Italian and French.
Catherine worked for Bell Telephone Company as a head chef before her job at the U.S.P.S. in East Orange.
Catherine loved spending time with and cooking for her family and was known for her culinary expertise; her crescent rolls were legendary. She was also talented in knitting and crocheting.
Catherine was predeceased by her parents; her loving husband, George Eugene Moran, Sr.; and her cherished sons, George Eugene "Gene" Moran, Jr.; Francis T. Moran, Sr., and his wife Marie; and Kevin J. Moran; her sisters, Concetta (Andrew) Garofalo and Nancy (Fred) Ramondini; and her niece, to whom she was a second mother, Andrea C. Tyminski.
She is survived by her daughters-in-law, Nancy Moran and Natalie Moran; her grandchildren, Frankie Moran; Nicole Griffin (John); Natalie Thompson (Michael); Samantha Moran (fiancé Mark); her great-grandchildren, Noelle, Matthew, Riley and Brianna.
Catherine is also survived by her loving niece, Francine M. Aster, to whom she was a second mother and best friend and with whom a special bond was shared; her nephew-in-law, Ronald Tyminski; her great nieces and nephews who considered her their grandmother and called her Nanny Kay: Ronald G. Tyminski (Melissa); Robert A. Tyminski; Michelle Tyminski; Alexis Tyminski, and Amanda McKenna (Reginald); whose son, Baby Reggie, was her regular dinner date and playmate. She also loved her extended family, Zachary, Rayden, Tommy, & Grayson.
In lieu of flowers, donations in Catherine's memory can be made to Several Sources Shelters in Ramsey, NJ.