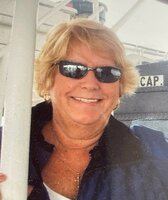 Patricia Ann "Patty" McCole
Patricia "Patty" Ann McCole, 82, of West Orange, NJ peacefully passed away at home on Friday, August 5, 2022.
Visitation will be on Wednesday, August 10th from 4:00 - 7:00 pm at Codey Funeral Home, 54 Roseland Ave, Caldwell. A Funeral Mass will be celebrated on Thursday, August 11th at 10:30 am at Our Lady of the Valley Church, 518 Valley St, Orange. Interment will be private.
Born in Orange, NJ to the late Francis "Huss" and Florence (nee Fricke) O'Connor, Patty was raised in Orange before moving to West Orange in 1977.
Patty touched many lives and will be missed by, not only her family, but everyone that knew her. She was fiercely loyal. Patty enjoyed spending time with her family and friends and never hesitated to speak her mind. She lived life on her terms, with a spirit of unwavering determination and generosity.
Patty was predeceased by her loving husband, Dennis J. McCole and her loving brother, Frank O'Connor. Surviving are her devoted son, Dennis P. McCole and his wife, Lisa; beloved grandchildren, Matthew, Timothy, and Caitlyn; her loving siblings, Rosemary Sayers and brother in law, Jack; Nancy Allonardo and brother in law, Tony; Edward O'Connor; and Tom O'Connor and sister in law, Patricia; brother in law, Charles McCole; sister in law, Maureen McCarthy and husband, Michael; and her many loving nieces and nephews.
In lieu of flowers, kindly consider a donation in Patty's memory to St. Jude Children's Research Hospital.