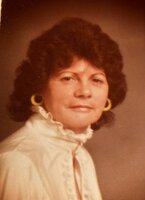 Elizabeth Jean "Betty" Crowley
Elizabeth "Betty" Jean Crowley (nee Staab), 90, of West Orange, NJ passed away on October 12, 2022.
Betty was born in 1932 in Newark, NJ to George and Agnes (White) Staab and was a lifelong West Orange resident. She was certified in infant care at Coit Memorial Hospital in Newark when she was young, then worked for Beckman Instruments, Inc. in Cedar Grove in their manufacturing department.
Betty was a longstanding member of the West Orange Elks Lodge and visited her best friend, Beverly, at her family owned McGarry's Tavern in Orange. Betty enjoyed gambling and would be seen at local bingo games as well as taking trips to Atlantic City and Las Vegas. She was a huge Elvis fan, and she cherished her friendship with Gov. Codey.
Betty was predeceased by her parents and sisters, Ann and Agnes. She is survived by her son, George Goldtrap and his wife, Lori; her daughter, Susan Murray; her grandchildren, Sabrina Hurley (Jimmy), Anthony Goldtrap, Jamie Murray (Robin), Colleen Saporito (Dan) and Ryan Murray; and her precious great grandsons, Remington, Doug and Brendon.
Please join the family on Monday, October 17th at 3:00pm for the Prayer Service, with visitation continuing until 7:00pm at Codey Funeral Home, 54 Roseland Ave, Caldwell. Burial will be private. In lieu of flowers, donations in Betty's memory made to Halos for Angels, PO Box 415, Florham Park, NJ 07932 would be appreciated.