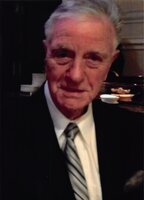 Mario Frank Cesario
With broken hearts, we announce the passing of Mario Frank Cesario on Thursday, January 5, 2023, at home. He was 93.
Born in Newark, NJ to Edwardo and Enrichetta (Miranda) Cesareo, Mario grew up in a large loving family that originated in San Giorgio a Liri, Italy.
After graduating Barringer High School, he went on to work with his father and brothers in the construction business. Mario enlisted in the U.S. Army and served in the Korean War in 1949 and again in 1951, earning 2 Bronze Stars for his heroic duty.
Afterwards, Mario owned Savino's Sporting Goods Store in Nutley before retiring to Tom's River.
He was an avid hunter, enjoyed horse racing, and his prized possession was his fig tree.
Mario is predeceased by his parents, two brothers and three sisters.
Mario is survived by his wife, Caroline (Turano) and their daughter, Michele (Pete) Reils; also his son, Mario; and his daughters, Rita (Victor) Firavanti, and Theresa (Lawrence) Caprio, children of Constance; his 9 grandchildren, 6 great-grandchildren, his sister, Mary Laudati and many nieces and nephews.
Visitation is on Wednesday, January 11th from 10:00-11:00am at Codey Funeral Home of Caldwell. Entombment will follow at Gate of Heaven Mausoleum, East Hanover.
To share a condolence with the family please visit codeyfuneralhome.com.