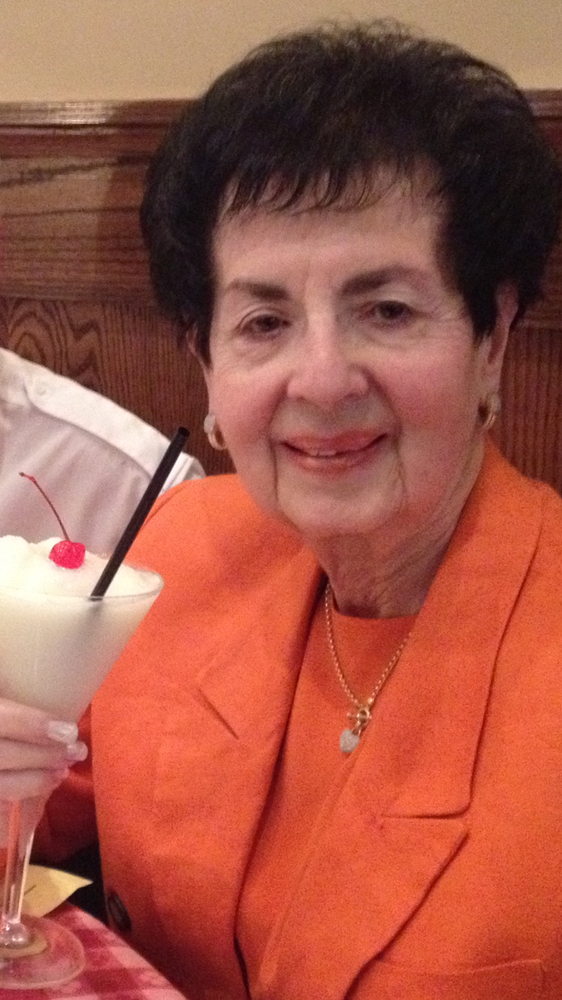 Obituary of Angelina M. McDonough
Angelina M. McDonough
Beloved Mother
Angelina M. McDonough, ("Angie") 87, of West Orange, NJ, joined her beloved husband, Joseph, in heaven on Thursday, September 27, 2018.
Relatives and Friends are invited to visit with the Family on Tuesday, October 2nd from 3-7 pm at the Codey & Jones Funeral Home, 54 Roseland Avenue, Caldwell, NJ. A Mass of Christian Burial will be offered on Wednesday, October 3rd at 10:30 am at Our Lady of the Lake R.C. Church, 32 Lakeside Avenue, Verona, NJ. The interment will follow at Immaculate Conception Cemetery in Montclair, NJ. To share a condolence or memory with the family, please visit www.codeyjonesfh.com.
Born and raised in Newark, NJ, Angelina was the daughter of Rudolfo and Rose DeBartolo and is survived by her daughter Andrea and sister Concetta "Connie" Uzzolino who will miss her dearly.
Angelina married the love of her life, the late Joseph K. McDonough, who recently predeceased her on August 10, 2018. Together, Joe and Angelina dedicated their lives to lovingly raising Andrea in Jersey City, and later the family had the good fortune to became residents of West Orange N.J. and Palm Beach, Fla.
Angelina was highly intelligent, well read, and initially worked for many years as an Executive Secretary in the famous Ballantine Brewery in Newark. While so employed she handled important accounts such as the New York Yankees and even interacted with Mickey Mantle and other famous athletes. She later became an administrative assistant in the Heavy Construction Laborers Union, Local 472 also in Newark. In their later years Joe and Angelina spent their retirement years by spending summers in Florida and winters in New Jersey.
Always known for her adventurous spirit, in her earlier years she loved to participate in diverse sports such as archery, waterskiing, tennis, and even tried parasailing. During international vacations she rode an elephant, a camel, and even participated (in native garb) in a Native American-rain dance in Canada. Angie was a devout Catholic who believed in virtue, modesty, honor, and personal dignity. She was also known for her lifetime of generosity and empathy for all with whom she interacted. Her favorite travel destination was Italy, and being bi-lingual she thoroughly enjoyed absorbing Italy's rich culture and history. She was also a romantic and particularly loved the theatre and movies, often attending Broadway plays with her family and friends. She took special pleasure in watching her niece Kimberly Carroll perform in plays and entertainment events. Angie truly enjoyed all that life offered.
Also surviving Angie are the many family and friends whose lives were enriched by Angie's love and for whom she was a role model for grace and how to live a pious life. In addition to her daughter and sister, other family members who will dearly miss Angie are sister-in-law, Patricia Yuhas of Orlando, FL; close family members Robert, Roseann and Kimberly Carroll, of Roseland, NJ, Peter and Ann Marie and Tony Uzzolino of Sea Girt, NJ, Peter and Mary Uzzolino and children, Noah and Alexa of Springfield, NJ; Yuhas nephews and nieces, Shawn and Margaret, Kathleen, Robert, Gregg, Brian and Melissa, Brendan and Kristan and Timothy; Yuhas grand nieces, Brianna, Kira, John, Jennifer, Addison, Lauren and Ty.
Angelina is also survived by many dear friends in NJ and FL: Jean Holm, Sheila Zukerman, Florence "GiGi" DeMari, Eileen Palazzone, Elsa and David Largen, Alma Dolan and Diane Antolino. Angelina also had others who were like daughters and sons to her, Jane and Thomas Young, Rachel and Scot Bigg, Vivian Mazzella, Beverly Ceaser, Brenda Levron, Tony Maiello and Judy McClusky.
She was predeceased by her loving brother, Anthony DeBartolo.
In lieu of flowers, donations to St. Jude Children's Research Hospital (stjude.org) would be deeply appreciated.